Key Features
Custom-fit L-Bracket for the Canon R5 and R6 with BG-R10 Battery Grip
Two-piece design
Vertical piece slides out to access camera ports
Two horizontal and vertical safety stops to prevent accidents
Non-obstructive design so you can use the fully articulating LCD screen
Arca-Swiss compatible
Works with any Arca-swiss tripods and monopods
Quickly shift from landscape to portrait
Built-in cold shoe mount for accessories
Includes Allen wrench with magnetic storage
Made of T6061 Aircraft-grade aluminum, CNC precision-machine
Made in the USA
5-year warranty
ProMediaGear PLCBGR10 Arca-Swiss L-Bracket Overview
The ProMediaGear PLCBGR10 Arca-Swiss L-Bracket fits the Canon R5 and R6 with the Canon BG-R10 battery grip. It is taller than regular L-brackets to accommodate the added height given by the vertical grip.
Like other ProMediaGear products, this L-bracket is made of T6061 aluminum making it lightweight and durable. The two-piece design is perfect too as you can free up the camera ports. The battery compartment is unobstructed too.
The Canon R5 and R6 have a fully articulating screen and the PLCBGR10 L-Bracket does not cover it. This means, you can extend the screen thoroughly without the L-Bracket getting in the way.
This L-Bracket is Arca-compatible. Meaning, it works with any tripods, monopods, and other accessories with an Arca-clamp.
Lastly, this product is proudly made in the USA. It comes with a 5-year warranty too so you can shop with confidence!
Full Specifications
Weight: 6oz
Dimensions: 3.75 x 1.5 x 3.25 inches
What's Included
L-Bracket
Removable Strap Loop
Allen wrench
Nice, one hitch though
If you own the drop in flilter EF to RF adapter like I do then you have to decide which is more importnt to access, the drop in filter or the ports and jacks on the side of the camera. You can't do both at the same time when the bracket is attached to the camera. I adjusted the vertical piece so I had easy access to the drop in fliters. Currently I use those more. A small hindrance until I obtain some native RF lenses. Otherwise it seems and feels like a well made, fully adjustable, quality product. I am happy I bought it. It doesn't deserve a 5 star review though until I update my lenses.
A strong and versatile L-bracket which suits the R5 beautifully. I love the access to the Quick Release Strap Plug in the plate too.
Only L-Bracket for the R5 tilt-flip
I tried alternatives. This l-bracket is the only one that works with the tilt-flip on the R5. Liked it so much, I recorded a YouTube video.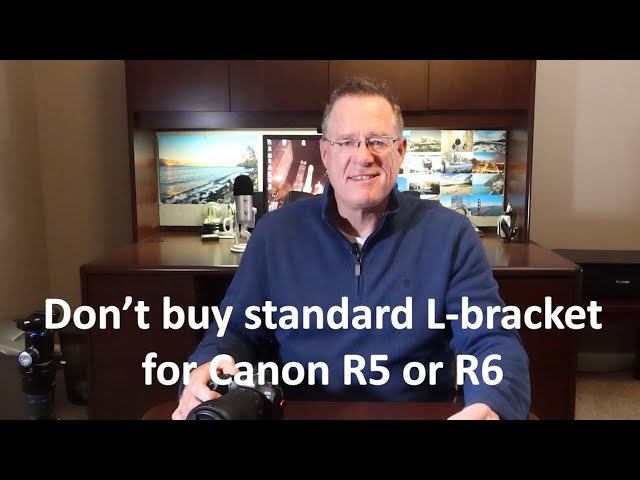 Perfect Bracket
This bracket is perfect. It is adjustable, provides a way to mount the flash off the normal hotshoe to avoid redeye, and allows full motion of the LCD display while also allowing access to all the camera ports. The only thing I would change - and it has nothing to do with the functionality of the bracket - would be to have them put in the magnet mount for the hex key the way they do on most of their other mounts.
Mr
What a great piece of equipment. Somebody has thought out making a bracket for the new camera that allowers the screen to move out at the back of the camera to any position without getting caught up in the bracket. And also it is a fantastic handle to hold the camera steady. And another great thing is to clipping the strap in the bottom of the bracket genius to everything Well done to everybody for making a fantastic product